Susan Bradley – Candlesmith
For over 30 years Susan has been crafting in wax. From San Francisco to St. Augustine where she has owed and operated Southern Lights Candle Shop for over 12 years. Just follow your nose down Cuna Street, the craft street of St. Augustine, and drop in, just for the "smell" of it.
Southern Lights
12 Cuna Street,
St. Augustine, FL 32084
(904) 826-1728
www.candlesmith.com
solights@bellsouth.net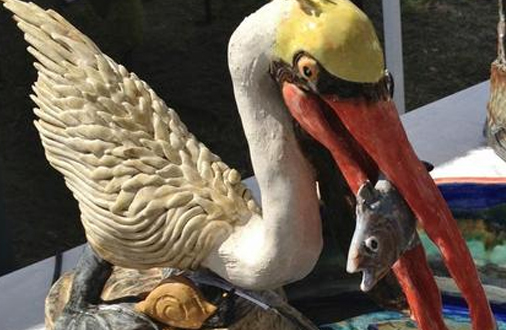 Lorrie Goss
Lorrie Goss is a ceramic sculpture artist who creates original and custom de- signed interior water fountain art perfectly suitable for a home or profession- al office décor. The organic shaped bases of the water vessels are hand crafted from clay and each added sculptural piece is designed to complement and enhance the color and interest of each individual piece. Many pieces include hand crafted copper elements which add even more interest as they provide the means for the water to flow from this unique functional art form. She became interested in ceramic art and sculpture while in high school and pursued a Bachelor's Degree in Art Education from Grand Valley State University in Michigan. She also has a Master's Degree in Science Education which has nurtured her interest in working with chemical components of clay and copper. After moving to St. Augustine in 2006, she decided to build a ceramic/sculpture studio with two ceramic kilns located in her home residence.
She has participated in St. Augustine Art Association shows, and member of The Art Studio of St. Augustine Beach. Lorrie served as Vice- President of the St. Augustine Regional Council. She is a member of Beaches Business Link, as well as Davidson's Realty Networking. Her current work can be seen in professional medical offices, kitchen and bath design centers, real estate broker's offices private home master baths and lanai settings. She has showcased her work at St. Augustine Art Association, The Art Studio at St. Augustine Beach, Re/Max Coast 2 Coast & Tim's Wine Market.
Lorrie Goss
904.625.7922
www.NaturalElementCreations.com
lkgoss@att.net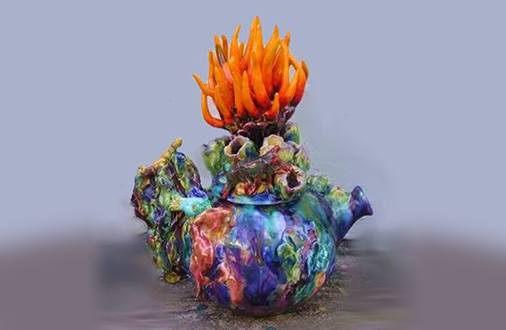 Gayle Prevatt – Folk Pottery, Painting and Drawing
Gayle is an artist who enjoys making colorful contemporary folk pottery and creates paintings and drawings inspired by the natural world.
Phone (904) 377-7917
Enzo Torcoletti – Sculptor
A sculptor whose work has been shown extensively and is included in numerous private and public collections internationally. Enzo has a traditional classical arts education in drawing, graphics and sculpture in a variety of media. In the last few years, he has focused on creating stone sculpture which has taken him to Portugal, England and Italy  where he maintains a sculpture studio.
(904) 377-7914